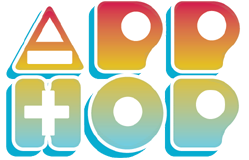 RANDOMIZING ENTREPRENEURSHIP TRAINING THROUGH BREAKOUT CHALLENGES ON SMARTPHONES (APPHOP)
Project Finish
31/08/2021
This project has been funded with support from the European Commission. This publication reflects the views only of the author, and the Commission cannot be held responsible for any use which may be made of the information contained therein.
The project focuses on the creation of 15 digital breakout resources by each partner who will use each of the 15 most popular smartphone apps by theme. Each resource will address one of the 15 competences identified in EntreComp Framework. The specific competence will be matched to the chosen app by each partner depending on what they perceive to be most appropriate in their local level. Each individual digital breakout resource will comprise a series of 4 different challenges that get incrementally more difficult to build different elements of the competence in question.
Moreover, the project pursues the development of an in-service training programme for VET tutors so as to develop their skills and competences to create their own digital breakout learning resources.
The project aims to develop and test a completely new entrepreneurship curriculum, based on the EntreComp Framework, but presented as a series of randomized breakout challenges for access on smartphones.